When we say welcome home to Rose Senior Living at Providence Park, we mean it! Caring for the mind, body, and soul, our Novi, Michigan senior living community strives every day to bring your loved ones the utmost care and comfort. We offer all-inclusive Independent Living together with Assisted Living and Memory Care programs.
Here to serve you.
Our care programs include medication management, assistance with bathing, dressing, transportation to medical appointments, and more. For those living with early-stage memory issues, Alzheimer's or other types of dementia, we provide comprehensive activities such as crafts, music, movies, card games or outings, that are designed to meet their cognitive, social, and physical needs. We're also happy to welcome furry friends and have a full calendar of enriching activities for our senior residents to enjoy. (+Read More)
At Providence Park, you are home.
Nestled in a quaint wooded setting, close to a wide array of restaurants, shopping, and dining venues, Providence Park is a full-service retirement community focused on a vibrant, active lifestyle. We also enjoy a very warm and inviting atmosphere, making anyone who crosses our doorstep feel at home from the first moment. Here, the wellness of our residents is always placed first and thanks to our continuous care approach to senior living, those you love the most can age in place without having to leave their home behind if they need to transition to Assisted Living or Memory Care.
Customizing the experience, just for you.
At Providence Park, we aim to encourage an independent lifestyle while also providing 24-hour assistance when necessary. Our dedicated staff takes time to customize each care plan, so that every resident can enjoy a fulfilling lifestyle. Plus, because we know how important it is to have a balanced diet, we offer farm-to-table meals, three times a day in a charming restaurant setting. Since there's no age limit on having a good time we have a game room, movie theater, a spa, a beauty salon, and a barber shop where residents can take a much-needed breather and pamper themselves.
A history of excellence.
Two long-standing organizations have come together to continue to elevate the level of service and support for residents and families of Rose Senior Living at Providence Park. With the partnership of Edward Rose and Sons and Life Care Services®, residents can expect an experience that is sure to exceed expectations. Life Care Services®, an LCS® Company, leads the way in senior living with over 45 years of proven experience and is privileged to serve nearly 40,000 seniors across the nation. We are honored to be ranked highest in customer satisfaction with independent senior living communities for two years in a row by J.D. Power. Visit jdpower.com/awards for more details.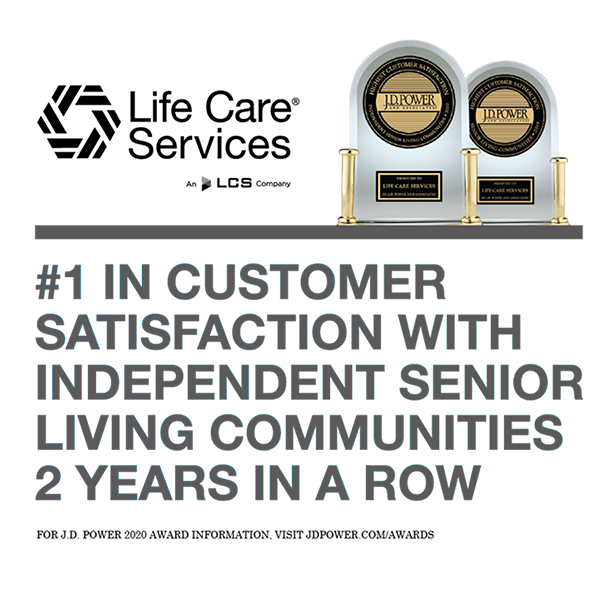 Learn more about our Rose Senior Living at Providence Park. Schedule a visit
and enjoy a personalized tour at our senior living community in Novi, MI.